PLANNING AND MANUFACTURING OF PACKAGING MACHINES
MULTIPACK KFT.
WELCOME
Our company is based in Hungary, Eger. Our specialities are packaging machines, filling machines for the milk industry. We plan, produce and service. Our firm has its production basis in Hungary, Eger with 21 employees. Our machines are made from stainless steel, with a CIP connection, and an ethernet card.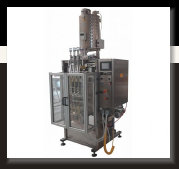 NEWS
Tel +3636 - 412-128
+3636 - 413-481
+3630-967-4379 E-mail
multipack@t-online.hu
Our water packaging machine was exhibeted on the Budapest Water Summit 28-30.11. 2016. Mr János Áder, the President of the Hungarian Republic started our machine. It made precisious water bags as always...
Water Summit, Budapest
CHOOSE YOUR MACHINE
Add: H3300-Eger, Gyetvai u. 5.


MP
PLANNED FOR PRODUCT