Topic 3
3300 - EGER
GYETVAI U. 5.
HUNGARY Tel +3636 - 412-128
+3636 - 413-481
+3630-967-4379 E-mail
multipack@t-online.hu
AUTOMATIC PACKAGING MACHINE FOR DRY COTTAGE CHEESE
This machine packages dry cottage cheese into bags automatically made by the machine from smooth foil. It can be controlled by a colourful LCD touch screen and an ethernet card for insuring the externel availability. The equipment can be connected into CIP washing system.
Comments
Cottage cheese packaging machine
Product conveyor
Foil sterilizator
Photocell marker
Bag length measurer
Nitrogen doser
Finished product printers, markers
Finished product conveyor
Options
Dose: 250-500 g
Capacity : 6-12 bags / min.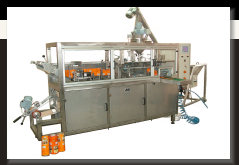 MULTIPACK LTD.
Add
MP
PLANNED FOR PRODUCT
PLANNING AND MANUFACTURING OF PACKAGING MACHINES