3300 - EGER
GYETVAI U. 5.
HUNGARY Tel +3636 - 412-128
+3636 - 413-481
+3630-967-4379 E-mail
multipack@t-online.hu
Comments
Topic 3
MANUAL LABELLING MACHINE - KCR-200
Suits for unsticking stickers from the carrier. Positions and puts the decorating or identifying sticker on the bottle. It can label any cylindrical products, but it is mainly used in smaller vineries or for labelling of sauces, honey etc.
MANUAL LABELLER - KCR-200
PRODUCT DESCRIPTION
Bottle diameter:
Roller max. diam.:
Roller max. inner diam:
Roller width:
Roller length:
Sticker type:
Performance: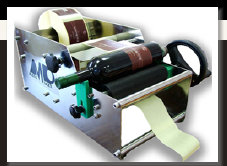 MULTIPACK LTD.
Add
MP
PLANNED FOR PRODUCT
PLANNING AND MANUFACTURING OF PACKAGING MACHINES
45 – 120 mm
O 220 mm
O 76 mm
20 – 180 mm
depends on customer's needs
front-, back- or round sticker
10-20 bottles/min.